The United Nations Conference on Trade and Development (UNCTAD) ASYCUDA Regional Office for the Pacific, as part of the European Union (EU)-funded Improving Pacific Islands Customs and Trade (IMPACT) Project, will hold a series of webinars, dubbed as 'Trade Tok' that will serve as a platform for engagement and free-flowing discussions on various topics for Customs and Trade officials across the Pacific to meet Pacific countries' request for knowledge sharing and best practices in trade as a means of strengthening technical capacity.This will provide an opportunity for experts from UNCTAD and in the Pacific region to share information and best methods related to trade facilitation.
On the 31st of August 2023, the inaugural Trade Tok webinar brought together over 130 registered participants from across 23 countries. This first webinar aimed to develop awareness and better understanding of the Trade Single Window (SW) environment. It brought together UNCTAD experts and Single Window users from Vanuatu to discuss their experiences and the benefits reaped by the various agencies involved.
The first invited speaker, Mr. Christian Nizeyimana, UNCTAD Business Analyst, discussed the relevance of SW to traders, how it saves both time and resources in complying with various Government Agencies' regulatory requirements, and how it boosts the efficiency and compliance to manage border-related legislation for governments. He emphasized the importance of having the right agencies involved in developing the SW environment, namely Revenue Administration (Customs & DT), Health & Public Safety, Trade Policy Implementation, Transport & Logistics, and Supply-chain Security, who are essential players in the SW environment.
Mr. Stanley Trief, Project Manager for SW in Vanuatu, presented the need for a robust and active governance structure to support the development of SW, as well as a well-designed implementation plan to ensure the Project's success and the system's long-term sustainability. Trief discussed the many useful features and benefits of the system, including the facilitation of permit/certificate applications, online processing, including payments, and linking these regulatory documents to Customs clearance to ensure that the required regulatory requirements are met electronically while also facilitating trade.
The last speaker, Ms. Diana Kalsong from Kava House in Vanuatu, shared her experience from a trader's perspective on how the ASYCUDA-based SW system has saved time and cost when applying for SPS permits and certificates and complying with Government Agencies' regulations. Kava House business started using SW in 2020 and has significantly seen a change in workload and ease of doing business.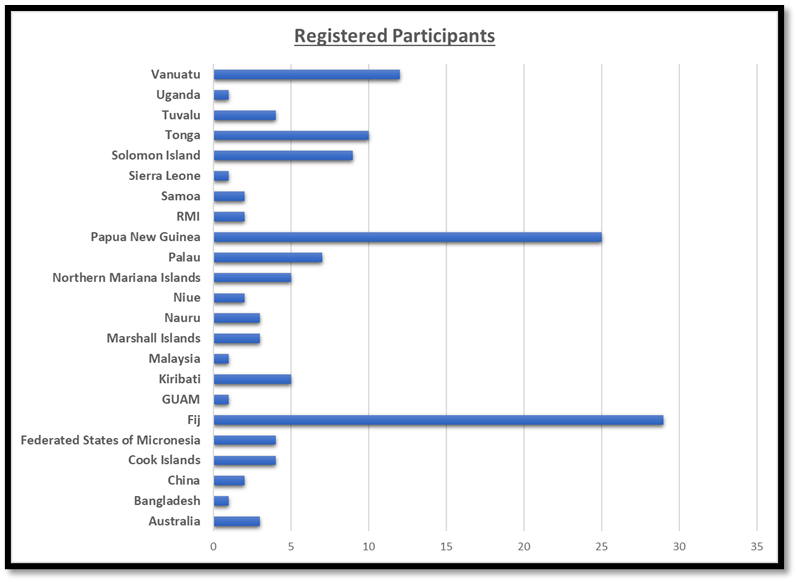 The Trade Tok webinar marks a significant step in promoting capacity-building knowledge-sharing intervention for the IMPACT project.  Countries emphasized the need to take ownership of their own future with respect to capacity needs and ensure that the skills and capacities they develop are sustainable in the long term. Through shared experiences and best practices, national officers in their respective countries will be able to improve their own competencies to solve local issues through this webinar series.
The IMPACT Project is part of the EU's Pacific Regional Integration Support (PRISE) programme that aims to increase the quality and the volume of goods traded intra-regionally between Pacific Island Countries and internationally.