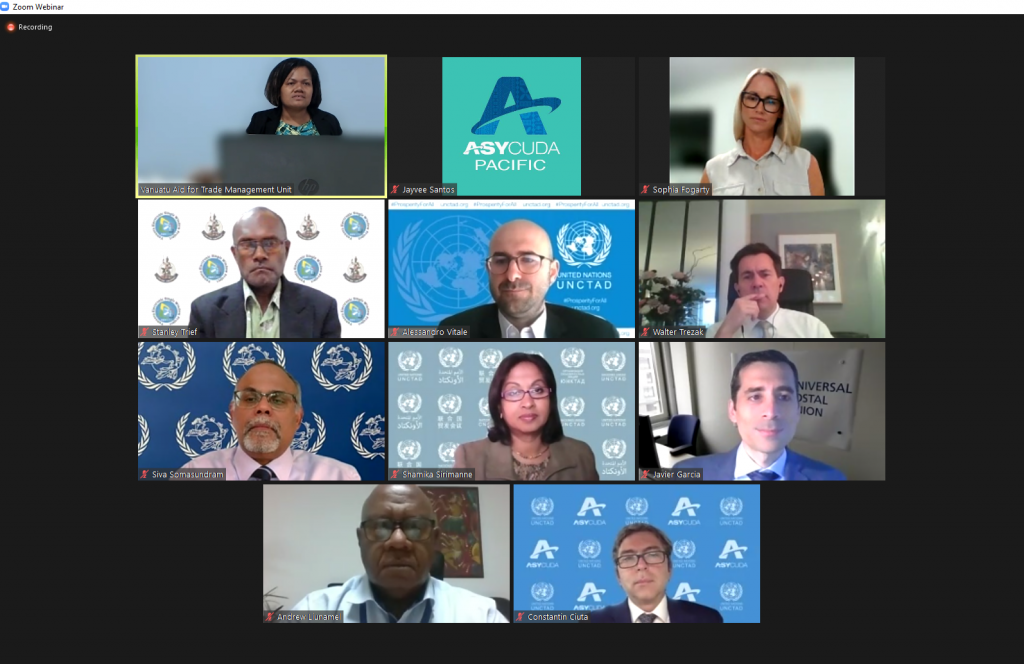 The Vanuatu Government, together with UNCTAD and UPU, organised a webinar on "Digital transformation in Least Developed Countries for efficient and safe cross-border e-commerce and customs clearance" on 25 March 2021 as part of the WTO Aid-for-Trade Stocktaking event. The speakers and panellists included:
Vanuatu:
Roy Mickey JOY, Director General of Trade
Stanley TRIEF, Manager, Vanuatu Electronic Single Window Project
Sophia FOGARTY, General Manager, Dynamic Supply Co.
Andrew LIUNAMEL, CEO, Vanuatu Post
UNCTAD:
Shamika SIRIMANNE, Director of the Division on Technology and Logistics
Constantin CIUTA, ASYCUDA Senior Customs Adviser
Alessandro VITALE, eT Ready Programme Management Officer
UPU:
Siva SOMASUNDRAM, Director of Policy, Regulations and Markets
Javier GARCIA, Customs Programme Expert
Vanuatu is one of the success stories in digital transformation in LDCs and panelists shared the experience and lessons learned to overcome the country's small domestic market size, geographical distance from the main global markets, and impediments to the goods clearance process to improve Vanuatu's competitive global position and economic performance. With funding from the Vanuatu Government, the Enhanced Integrated Framework (EIF) and Australia's Governance for Growth (GfG), the digital transformation initiatives included undertaking a Single Window assessment in 2014 and an eTrade Readiness Assessment in 2018,upgrading to the latest version of ASYCUDAWorld in 2018, establishing the ASYCUDA-based electronic Single Window system (ESWS) from 2019, and implementing the upcoming integration of the Post system in the ESWS.