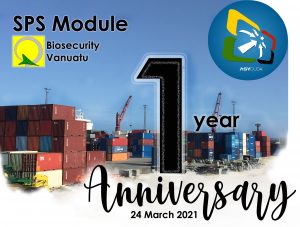 The Vanuatu Single Window project marked an important milestone as it celebrated the first year of implementation of the ASYCUDA Sanitary and Phytosanitary Module (ASYSPS) in Port Vila on 24 March 2021.
Biosecurity Vanuatu and its stakeholders were the main beneficiaries as ASYSPS automated the application and payment process. The implementation was timely as it allowed businesses to continue at the beginning of the pandemic when the government adopted movement restrictions and social distancing to prevent the introduction and transmission of COVID-19.
In addition to allowing online submissions, the automation of the SPS application process enhanced the approval turnaround time, particularly in dealing with perishable products, as Biosecurity officers can process applications where internet connectivity is available. ASYSPS has also been used by stakeholders as a digital storage and data management system, allowing them to access past permits and filling out new applications easily.
Since the implementation of ASYSPS, the Biosecurity clearance process has been integrated with Customs in ASYCUDAWorld leading to joint risk management and eliminating the submission of SPS document hard copies. An online verification process has also been introduced through the Vanuatu Single Window portal (https://singlewindow.gov.vu/) to validate the authenticity of SPS export certificates.
2020 ASYSPS Stats:
| | |
| --- | --- |
| | 4,535 SPS documents lodged and processed |
| | Vt 35,515,120 fees collected |
| | 85% decrease in use of printed paper |
| | 67% decrease in vehicle trips to physically submit, follow-up and pay applications |
| | Trained – 53% ; 47% |