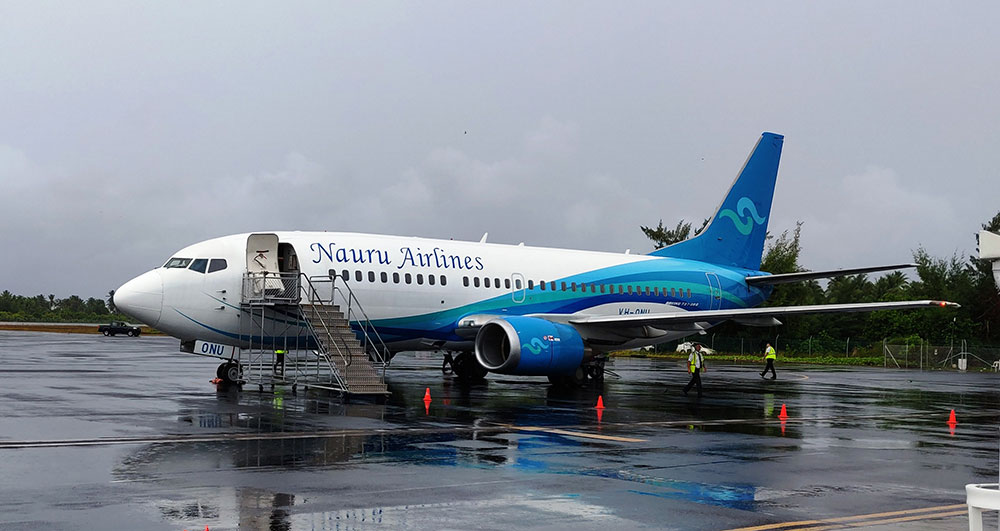 The exact origins of the Nauruans are unclear since their language does not resemble any other in the Pacific region. Germany annexed the island in 1888. A German-British consortium began mining the island's phosphate deposits early in the 20th century. Australian forces occupied Nauru in World War I; it subsequently became a League of Nations mandate. After the Second World War – and a brutal occupation by Japan – Nauru became a UN trust territory. It achieved independence in 1968 and became one of the richest countries in the world because of its extensive phosphate stocks.
Revenues of this tiny island – a coral atoll with a land area of 21 square kilometers – traditionally have come from exports of phosphates. Primary reserves of phosphates were exhausted and mining ceased in 2006, but mining of a deeper layer of "secondary phosphate" in the interior of the island began the following year. The secondary phosphate deposits may last another 30 years. Earnings from Nauru's export of phosphate remains an important source of income (Source: CIA World Factbook).
With financial assistance from the Australian Department of Foreign Affairs and Trade (DFAT) and the New Zealand Ministry of Foreign Affairs and Trade (MFAT), UNCTAD is currently engaged in the implementation of the Pacific Trade and Customs Harmonisation Project in line with the PACER Plus Development and Economic Cooperation Work Programme to review, streamline and automate the cargo clearance processes, to strengthen customs institutional capacity through trainings and capacity building, and to deploy the latest version of ASYCUDAWorld in the Customs Administration of Nauru.